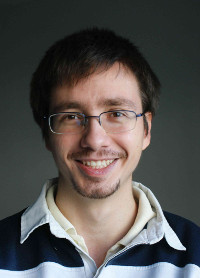 Thanks for your support!
Hi, I'm Marc Kruzik and I have worked on God is a Cube for 5 years. If you liked other programming puzzle games, such as SpaceChem or Human Resource Machine, or Minecraft's redstone, you will be at home.
And if it's your first time playing such a game, let me extend an invitation to discover the easiest way for programming virtual robots.

God is a Cube will be available on Steam before the end of the year, but you can get it right now, with additional content!
Benefits from the mini-crowdfunding will be used to make the game better: more levels, better art, more story and so on!

Quotes & Reviews
The Game
God is a Cube: Nanomachines Rising is a programming puzzle game where you control nanomachines (small robots) by creating Artificial Intelligences made of graphical symbols.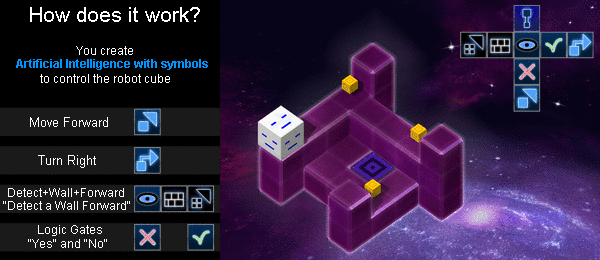 How does it work?
You create
Artificial Intelligence with symbols
to control the robot cube
Move Forward
Turn Right
Detect + Forward + Wall
"Detect Forward for a Wall"
Logical Gates
"True" and "False"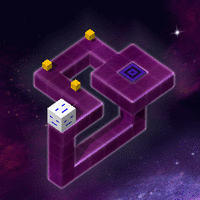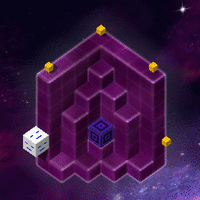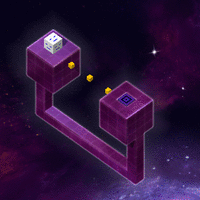 The Team
A game by Marc Kruzik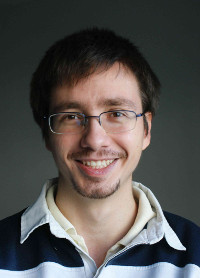 Hi again, I'm Marc Kruzik / King Kadelfek, the creator of the game. This is basically a one-man project, with a few commissions. I spent 12 years in the video game scene, mostly making free tools such as DreaMaker (a localization / translation tool used by To the Moon), and working on technological projects (robotics, NFC figurines and professional video games).

I'm very open to new ideas, and the game already features a lot of suggestions sent by gamers all over the world. If you like programming games and want to see new functions in God is a Cube, you should definitely ask for them.
Music by Rymdreglage
Rymdreglage is a Swedish duo who likes to do music and videos. Just so you know, "Rymdreglage" means something like "intergalactic space slider".
Maybe you saw their
8-bit trip video clip
? They have a lot of experience working with thousands of little cubes and making music to go with their creations, that's why they were chosen for this project. For God is a Cube, they made
a great atmospheric tune
.
FAQ
- Why are you not making a Kickstarter / Indiegogo / etc crowdfunding?
A classical crowdfunding campaign represents months of work and at least 30 days dedicated on a hit-or-miss communication campaign. I prefer to spend those time and efforts on the game. "Less face time, more development time".
- Why the name God is a Cube?
In a world made of cubes placed one inside another (like russian dolls), the smallest physical thing is a cube, and the biggest immaterial thing is a cube. Hence the name God is a Cube.
- Who can play the game?
Anyone interested into logic or puzzle games can play this one. Each chapter's beginning is easy to start with, and the ending of the chapters are challenging even for professional programmers.
- What will be available in developer tools?
Basically, all features which would be game breaking (like giving away solutions) or too complicated for basic users will be put in developer tools. It includes (but not limited to): database edition, gif making, oriented graphs, 2D schematics, etc. The basic level editor / sandbox tool will still be available to everyone.
- The stats suddenly changed, why?
The current system can take up to a few hours to update the stats. The last update date is displayed just below the stats.
Mini Crowdfunding
$3,009
$991 needed to reach $4,000
200 backers
100 needed to reach 300 backers
Benefits will be used to make the game better: more levels, better art, more story and so on!
Last update: 2018 September 15 - 10:37pm